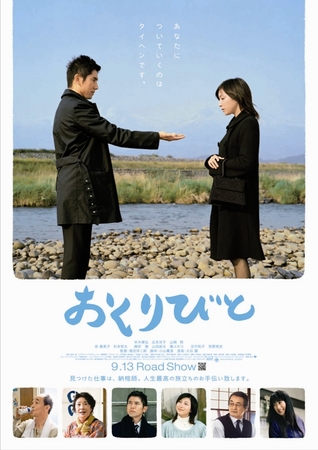 Entertainment
Get the tissues ready! 10 Japanese touching movies!(TOP6~TOP10)
(This article is generated by auto AI translator.)

"RANKINGOO" (https://rankingoo.net/), a well-known Japanese ranking website, surveyed men and women from 10 to 50 generations to select the most touching Japanese movies recently.
(Number of valid responses: 8,274)

#10 Like Father, Like Son(そして父になる) 251 votes


One day, Ryota receives a phone call from the hospital. The hospital informs Ryota that his 6-year-old son is not his biological son. After his birth, two babies were switched. Ryota and his wife become torn by the news.The couple must decide whether to take back their biological son or keep the son they have raised for the last 6 years.


#9 Tokyo Tower: Mom and Me, and Sometimes Dad(東京タワー 〜オカンとボクと、時々、オトン〜) 279 votes


For Masaya, the last happy memory with his parents together, is his hopelessly drunk Dad forcing him to eat yakitori chicken bars… and being hit by Mom… Masaya was 3 years old at that time. Mom and Masaya left Dad and started living in a town famous for coal mining. Mom worked in her sister's small diner and raised Masaya by herself. The life was peaceful there, free from Dad.
After graduating from high school, Masaya successfully entered an Art University in Tokyo, the place he has always longed to be. However, life never really goes on as a person wishes. His life was rotten. Life was all about fooling around with his friends and killing time. He could not dare call Mom to tell her his situation.
It is now 1990, and Masaya is working just to return the debt, which were mounted while just living in Tokyo and doing nothing. He did whatever he was asked to do, and without really expecting, somehow earned his living as an illustrator/columnist. One day he gets a call from his aunt informing that his mom has cancer. Masaya makes up his mind and calls Mom, to invite her to live with him.
Mom arrives in Tokyo. After living apart for 15 years,Masaya and Mom start living together in Tokyo. Masaya's life seems to have finally started moving once again. Soon, people around him started to frequently gather at his house to eat her delicious food. The house is always filled with happy faces and laughter. However, nothing lasts forever.As they have feared,Mom's cancer has relapsed.
"The day"Masaya is most afraid of draws close…

#8 Be with You​(いま、会いにゆきます) 327 votes

When two souls find one another, nothing can tear them apart. Widower Takumi lives a quiet life with his six-year-old son Yuji after the loss of wife and mother Mio . Yuji unfailingly remembers her promise to him: "I'll be with you again in a year's time, when the rains come." On the first anniversary of her passing, Takumi and Yuji are taking a walk in the woods when they come across a woman sheltering from a monsoon downpour. She bears an uncanny resemblance to Mio, but has no recollection of who she is or what she is doing there. Family life resumes from where they left off, while Takumi and Mio's memories of their first encounter in high school come flooding back. However, their new life together is interrupted by the discovery of Mio's old diary, which reveals the secrets of her past and how they must say goodbye once more in six weeks time…

#7 The Eighth Day(八日目の蝉) 337 votes


Kiwako Nonomiya is devastated after Takehiro Akiyama, the married man she has been having an affair with, manipulates her into getting an abortion by promising to marry her and then refusing to divorce his wife. Kiwako then learns of Takehiro's wife's pregnancy.
One morning, while Takehiro and his wife Etsukoare away, Kiwako sneaks into their home to get a look at their six-month-old child. Without a thought for the consequences, she carries the baby away. Kiwako then raises the child as her own, while being a fugitive from the law …

#6 Departures(おくりびと) 338 votes

Daigo Kobayashi is an aspiring cellist newly hired by a symphony in Tokyo. No sooner than Daigo's first performance with the orchestra he receives the devastating news that the orchestra will be disbanded. Daigo made the fateful decision to mortgage his future by purchasing a cello that cost well over $100,000. Now he has to break the news to his faithful wife . When she asks Daigo what his plans are now, he suggests they move back to his rural hometown Yamagata and start over again. Daigo's wife smiles and agrees to follow him to Yamagata.
After the couple settles into their new home, Daigo looks for a job. He finds a listing in the newspaper advertising a position that requires little hours, no experience, and centers around helping out others on their journeys. Daigo assumes the position is for a travel agent, but when he arrives at the office, he realizes the job is for an "encoffineer" (Nokanshi) – similar to an embalmer in the U.S., but requires the encoffineer to work in front of the deceased in a ceremony steeped in tradition. The job of an "encoffineer" is not a popular one in Japan and people often look down on the job as dirty. Daigo tries to keep his job secret, but soon rumors spreads around the small town. When Daigo's wife learns of his new job, she gives him the ultimatum to quit his job or she'll leave him.

◆Related Article
Get the tissues ready! 10 Japanese touching movies!(TOP1~TOP5)

Check "RANKINGOO" for more voting results.