(This article is generated by auto AI translator.)
Following on 7 picks for 2018, today we will pick 7 good Japanese dramas in 2017.
1.Quartet(カルテット)
みなさま、新年明けましておめでとうございます。本年もよろしくお願い致します。
さて、4人は何を見ているのでしょうか??
1/17(火)の初回放送をお楽しみに。#TBS #カルテット #松たか子 #満島ひかり #高橋一生 #松田龍平 #坂元裕二 #2017年 pic.twitter.com/vvllokeoqx

— 【公式】火曜ドラマ『カルテット』 (@quartet_tbs) December 31, 2016
Main Cast:Takako Matsu/Hikari Mitsushima/Issey Takahashi/Ryuhei Matsuda
Episodes: 10
Synopsis:
Four musicians' paths cross one winter by chance: two women and two men in their 30s, all whose dreams have gone sadly unfulfilled. Instead of swelling toward the peak of their lives, their lives all seem headed gently downhill. Despite being total strangers, they decide to share a house together in the wooded resort area of a Karuizawa and begin a musical quartet. But "chance" also hides some pretty big secrets in this brand new adult-sized drama that will have you laughing at odd chemistry, biting your nails at unexpected turns, and even alarmed by some stark truths of the human condition.
2.I'm Your Destiny(ボク、運命の人です。)
👼お知らせ👼
第3話予告動画配信中👀https://t.co/0shT4NPCVc#ボク運 #土10 pic.twitter.com/Fz25nHf7Wr

— 【公式】「ボク、運命の人です。」 (@bokuun2017) April 22, 2017
Main Cast:Kazuya Kamenashi/Fumino Kimura/Tomohisa Yamashita/Nanao
Episodes: 10
Synopsis:
Makoto Masaki and Haruko Kogetsu are both 29 years old and single. Since they were children, they have passed each other at various places like on the beach and shrines. Yet, the two are not aware of each other at all. One day, a man appears in front of Makoto and introduces himself as God. He tells Makoto about his destined soulmate and that she works next door. When he faces Haruko, he tells her "I'm your destiny."
3.Fictitious Girl's Diary(架空OL日記)

Main Cast:Bakarhythm/Kaho/Asami Usuda/Ryo Sato/Maho Yamada
Episodes: 10
Synopsis:
On a gloomy Monday morning, my week begins. Although I am sleepy, I put on my make-up and I leave home for work at a bank. I take the subway filled with passengers and get off on the nearest subway station from work. I meet Maki Fujikawa at that subway station. She is my closest colleague at work. While talking with each other, we get to our workplace.
4.Overprotected Kahoko(過保護のカホコ)
Main Cast:Mitsuki Takahata/Hitomi Kuroki/Saburo Tokito/Ryoma Takeuchi
Episodes: 11+special
Synopsis:
Kahoko Nemoto is a naive 21-year-old university student. She relies on her mother, Izumi, for everything in her life. Her mother wakes her up everyday, picks up her clothes, while Kahoko Nemoto has never done housework or driven a car. One day, Kahoko Nemoto meets a young man who grew up in a completely opposite environment.
5.Prison Princesses​(監獄のお姫さま)

「監獄のお姫さま」DVD&Blu-ray、いよいよ明日発売!!発売告知スポットを公開するから、チェックするのよぉ!! #プリプリ #監獄のお姫さま #DVD #ブルーレイ #いよいよ pic.twitter.com/eZidU1PAba

— 『監獄のお姫さま』3/23DVD&Blu-ray発売! (@pripri_TBS) March 22, 2018
Main Cast:Kyoko Koizumi/Hikari Mitsushima/Kaho/Maki Sakai/Miho Kanno
Episodes: 10
Synopsis:
Attempted murder, fraud and embezzlement, illicit drugs, tax evasion and even murder? Five women convicted of various crimes and a crime-loathing female warden put aside their differences to hatch a grand plot of revenge against a handsome but crooked company CEO. But the revenge plan keeps hitting snags. All of these mature women with interesting back stories meet in a female penitentiary and band together to clear each other of unjust sentences in this blockbuster female crime story rich in laughter and tears, brilliantly merging the comedy and cheerfulness of Kudo Kankuro storytelling with serious deeper questions of why we're all here and what constitutes true happiness.
6.Detective Yugami(刑事ゆがみ)

Main Cast:Tadanobu Asano/Ryunosuke Kamiki
Episodes: 9
Synopsis:
Why do people commit a crime?
An eccentric detective, Yukimasa Yugami is irresponsible and lacks cooperativeness. However, when it comes to an investigation of a crime, he has a sharp eye for a lie and solves many difficult cases. Some says this is because he also has a twist personality like a criminal has.
Is it truly a suicide? an accident? With his silver-tongue, he discovers splendidly a criminal's abnormal mind.
His partner, on the other hand, is a young detective Torao Hanyu who is very serious and strongly believes in justice. For Hanyu, Yugami is such an obstacle for his plan for promotion. However, somehow Yugami and Hanyu become good partners for each other. This is an interesting, new style of detective drama looking people's darkside deeply.
7.Caution, Hazardous Wife(奥様は、取り扱い注意)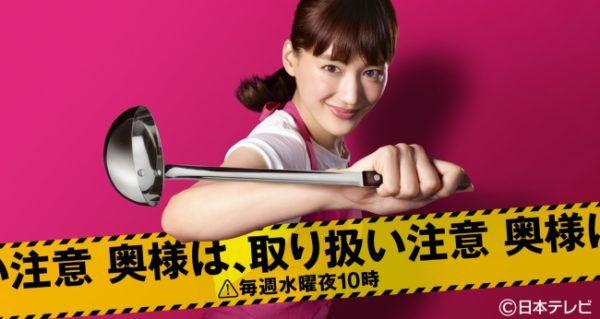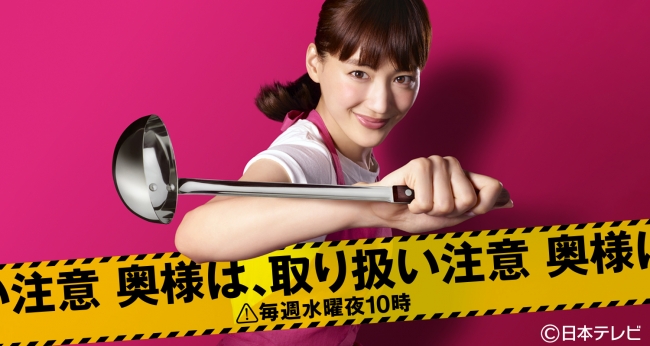 Main Cast:Haruka Ayase/Hidetoshi Nishijima/Ryoko Hirosue/Tsubasa Honda
Episodes: 10
Synopsis:
Nami Isayamamet a man through a blind date and married him. She and her husband moved to a quiet, exclusive residential area. Nami is now a housewife and she decides to take cooking classes. She meets other housewives at the cooking class and receives tips from them, while becoming friends. Nami surmises that one of the housewives in her cooking class is the victim of domestic violence. Nami decides to save the victim by herself.
In addition to the seven Japanese dramas mentioned above, there are also "Tokyo Tarareba Girls" (Tokyo タラレバ娘) starring Yuriko Yoshitaka, an adaptation of the original book by Keigo Higashino, "Reverse"(リバース) starring Tatsuya Fujiwara, an adaptation of a best-selling Japanese novel, and the "Tsubaki Stationery Store" (Tsubaki Stationery Store ~ Kamakura Story ~) starring Mikako Tabe, which is also very interesting.Hope everyone will enjoy and savor the beauty of Japanese dramas.
◆Related Articles
TOP 5 THE BEST NHK ASADORA / MORNING DRAMA!
Popular 6 Japanese Dramas in 2019 recommended for you!
Popular 7 Japanese Dramas in 2018 recommended for you!