(This article is generated by auto AI translator.)
Renzoku Terebi Shōsetsu (連続テレビ小説, "serial TV novel"), also known as asadora (朝ドラ, "Morning Drama"), is a serialized Japanese television drama program series broadcast in the mornings by Japanese public broadcaster NHK.Asadora currently airs in Japan Monday through Saturday mornings on NHK General TV from 8:00 to 8:15.Virtually all of the storylines center on the life of a female heroine who faces challenges while working to achieve her dreams. The asadora have become some of the most popular shows on Japanese television, with series such as Oshin.With over 100 works released since 1961, in addition to the 100th work released in Japan recently, the works "Natsuzora" (なつぞら) and the 101st work "Scarlet"(スカーレット), we will introduce the top five most popular morning dramas from last year's 2019 NHK survey, so you can catch up with Japanese dramas at home during the epidemic prevention!
【NHK Morning Drama Popularity Ranking】
(During March,2019 Total:242,072 votes)
​#5 "Churasan"(ちゅらさん) 12,089 votes
The 64th NHK Asadora Renzoku Drama is Churasan, a story of a young woman, Kohagura Eri, who was born in Kohamajima Island, Okinawa on May 15, 1972, the day when Okinawa was returned to Japan from the U.S. Eleven years later, Kamimura Shizuko and her two sons, Kazuya and Fumiya, from Tokyo come to stay as the guests of a small inn run by Eri's family. Eri's fun-loving, yet eccentric family welcomes them warmly. However, Eri is shocked to hear one of the sons, Kazuya is terminally ill and Shizuko and her sons came to Okinawa to spend his last moment together in beautiful nature. Fumiya, Kazuya's younger brother, and Eri promise to marry each other someday. However after Kazuya's death, Fumiya and his mother leave the island to go back to Tokyo. Years later, they are reunited, Eri as a nurse and Fumiya, a doctor, working at the same hospital in Tokyo.
#4 Carnation(カーネーション) 14,611 votes
Carnation is the 85th asadora series of NHK. "Carnation" is a drama inspired by Ayako, a pioneer of Japanese fashion field and the mother of three Koshino sisters.It follows the main character Itoko living through the turbulent times of Taisho and Showa, when people's fashion changed from Japanese to Western style, and bringing up alone her three daughters who would later become globally successful designers.
#3 Hiyokko (ひよっこ) 14,998 votes

Hiyokko is the 96th asadora series of NHK. In 1964, Mineko Yatabe was born and then raised at a mountain village in the northwest of Ibaraki Prefecture. She has 7 family members. Her older brother is smart and he is the first person from their village to an university. Her father goes to Tokyo to earn tuition fees for her older brother. Mineko thinks if she graduates from high school, she wants to help her grandfather and mother with farming. Mineko Yatabe's life changes after her father fails to come back.
To find her father and make money, Mineko goes to Tokyo with two of her childhood friends. They begin to work at a factory. After work, Mineko searches for her father. The factory goes bankrupt and Mineko finds that she does not have a place to live. Fortunately, Mineko finds work at a western restaurant that her father mentioned that tasted great. She begins to feel like like part of a family with the restaurant owner and other employees. Can Mineko find her father?
#2 Amachan(あまちゃん) 28,754 votes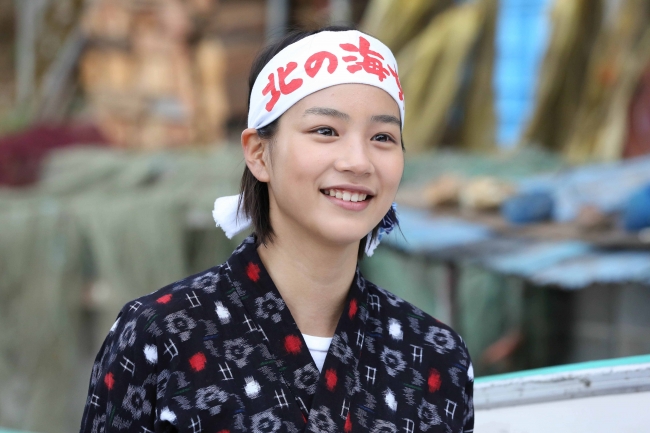 (C)NHK
Amachan is the 88th asadora series of NHK. Amano Aki follows her mother, Haruko, to her hometown in Kitasanriku. There, she meets her maternal grandmother, Natsu, for the first time. Natsu is a woman diver, and Aki thinks that is just so cool. Aki is a second year high-school student, and she struggles to keep up with the fast-paced life in Tokyo. Having been confined indoors most of the time, everything she sees in the rural town is exciting to her. But most of all, seeing her grandmother diving under the fierce surf along the coastline, leaves a huge impact on her. "I think I would like to be a diver too…"
#1 Asa ga Kita(あさが来た) 39,198 votes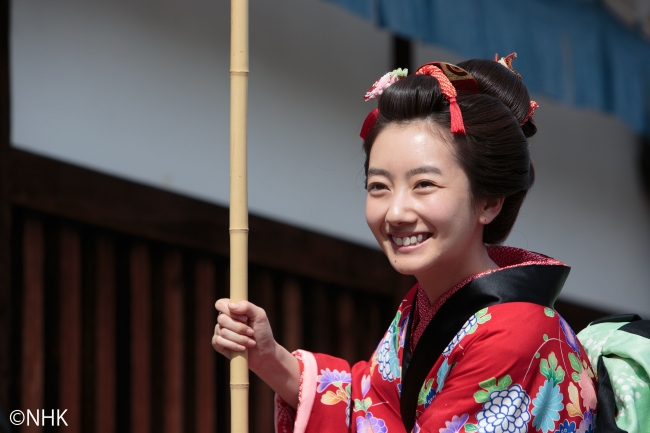 Asa ga Kita is the 93rd asadora series of NHK. Asa is a naughty and curious daughter of a Kyoto merchant who wants to pursue studies in business, and is displeased with her father's arrangement for her marriage into the Shirooka merchant family in Osaka. However, her fiance Shinjirō gives her an abacus and encourages her to act on her own will, and her family agree to let her learn accounting.The drama depicts the challenges faced by Asa, in a very much male dominated society, and how she overcomes them triumphantly. It also showcases the changes in the Japanese society as the Meiji Restoration slowly swept across the nation.

See the official website of NHK Japan for more voting results.