(This article is generated by auto AI translator.)
On May 19th, the night before the release of the movie "AI Amok" on Blu-ray & DVD, Takao Osawa, Kento Kaku, Takanori Iwata, and director/screenwriter Yu Irie gathered online to share the time of the online talk live with about 100 fans who were selected in advance. In this event, to celebrate the release of Blu-ray & DVD, the four members of the group, who hadn't seen each other since the release of the film, welcomed about 100 people from the general public to look back on the filming and answer questions from the participants.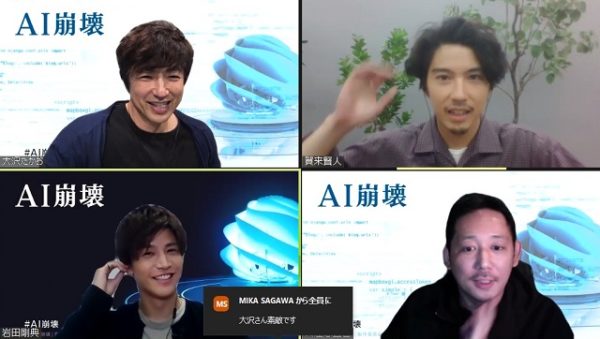 At the beginning of the event, Takao Osawa, the lead actor, said, "It's been a long time since then. I didn't expect to be able to get together like this… I'm a little bit nervous. " He greeted with a smile.
And "How do you spend your time at home these days?" When asked, "I grow shiso," Director Irie said, there were so many comments from viewers like that "I always check your shiso growing!" in the live chat.The event started in a relaxed mood as if to relieve the tension in the beginning of the event.
Kaku said, "I think Osawa-san created a lot of relationships with us, such as by talking to us… I was able to talk with Osawa-san more than I expected!"
Osawa says, "They talk naturally and we get along well, I think they were paying attention to their seniors (lol). It was a lot of heavy scenes, but we had fun doing it. And I have one episode with Kaku, on the way home from the shoot, Kaku told me just "Thank you for your hard work," and passed me (the car I was riding in) to go. you're going to pass me? " The viewers laughed by Osawa's joke.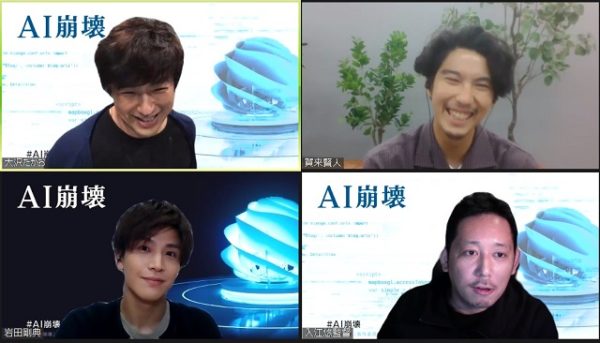 On the other hand, Iwata(he didn't have many scenes with the others), said, "My shooting scenes were the first and last. It's the last time I've been on the set in a long time… I was very nervous. When I was reading the script, I thought, "Wow, this scene is going to be tough…! It was really tough days." He looked back on those days. Osawa went to see how Iwata was doing secretly. "The next time I met Iwata, it was almost at clank-up, so I was wondering how he kept up his feelings. It was a difficult scene where Iwata had to make it, so when I saw how he was concentrating on his own, I was impressed that he didn't let the pressure get the best of him. When Osawa commented, Iwata looked relieved and smiled.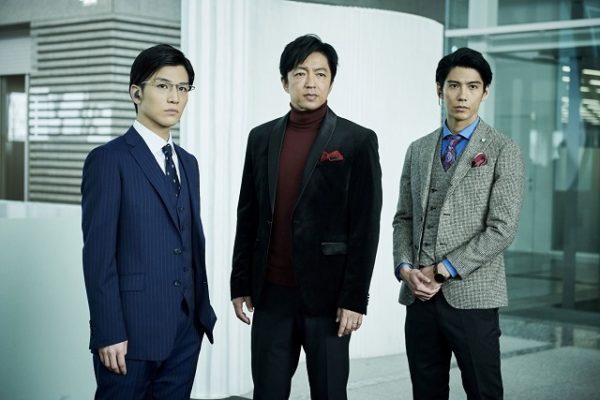 Director Irie said,"The Blu-ray & DVD includes more than 3 hours of video extras, so I hope you'll enjoy it. We shot this film in January 2019, and I remember the scene where Kiryu, played by Osawa, holds the hand of her daughter. I feel that interaction with people is precious. I hope that the day will come when we can shoot scenes like that again. He expressed his thoughts on the work.
Iwata said, "It's because of this time of year that I'm so happy that people are able to listen to our online talk show. I've been thinking for a while that the situation in this film and the current situation are linked, so I'd like you to watch this film during your "Stay home time".
Kaku said, "I enjoyed sharing time with everyone. Thank you very much. It's a film created with a great crew and cast with a very high level of enthusiasm. I think you can feel this sense of presence when you watch it at home."
In the end, Osawa said, "I'm really happy to be able to hold such an event online, even under such circumstances, and to be able to have direct conversations with the people who saw my work. We usually stand each other side by side (at events and stage greetings), so it was fun to see everyone's expressions. How do I find myself living in a world of panic? It's a film in a situation where you're in the house for a long time now, so please watch it." He concluded the talk event with the following words.
In Japan, filming of movies and TV dramas has almost stopped due to COVID-19. Under such circumstances, the live talk event using the online distribution system must have been a meaningful "new form of event" for both the fans and the producers. It was a very warm talk event for the cast, director and fans were able to spend time together.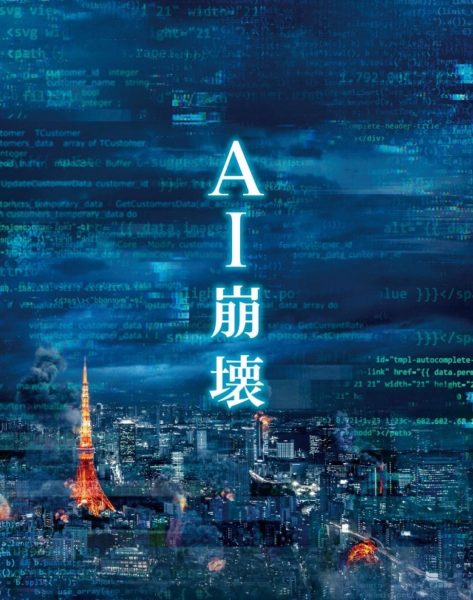 "AI Amok" Film Information
Japan 10 years from now, when AI has become an indispensable part of human life. The AI, which has seized the personal data of the nation's citizens, has begun to sift through human values and slaughter them. Why did the AI run amok?
A suspenseful blockbuster directed and written by Yu Irie, the director of "22 Years of Confessions" and "Joker Game"! Actor Takao Osawa stars in the film, playing the genius scientist Kiryu, with a superbly talented cast including Kento Kaku, Takanori Iwata, Alice Hirose, Nanako Matsushima, and Tomokazu Miura.
"AI Amok" released on Blu-ray & DVD on May 20th
[First Edition]
Blu-ray & DVD Premium Edition 6,980 yen (tax included)
Blu-ray & DVD set 4,980 yen (tax included)
Warner Bros. Home Entertainment.
©2019 Film "AI Amok" Production Committee