(This article is generated by auto AI translator.)
"RANKINGOO" (https://rankingoo.net/), a well-known Japanese ranking website, surveyed men and women from 10 to 50 generations to select the most touching Japanese movies recently.
(Number of valid responses: 8,274)
#5 I Want to Eat Your Pancreas(君の膵臓を食べたい) 374 votes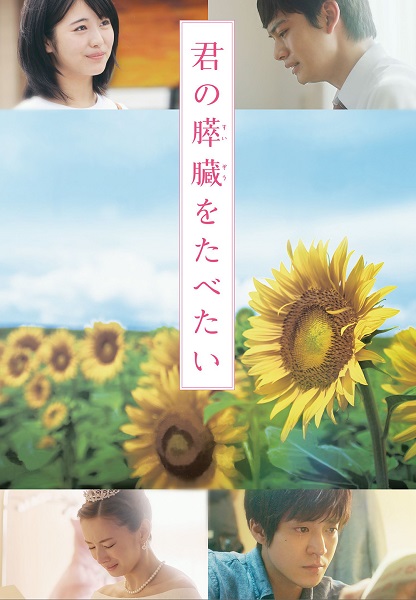 (C)2017「君の膵臓をたべたい」製作委員会 (C)住野よる/双葉社
I am a high school student. I happen to find a diary by my classmate Sakura Yamauchi that reveals she is suffering from a pancreatic disease. I spent time with Sakura, but she dies.
12 years later, due to Sakura's words, I am now a high school teacher at the same school where I graduated from. While I talk with my student, I remember several months I spent with Sakura. Meanwhile, Kyoko , who was Sakura's friend, is soon to marry. Kyoko also recalls the days she spent with me and Sakura.

#4 Always: Sunset on Third Street (ALWAYS 三丁目の夕日) 395 votes
In 1958, with the impending completion of Tokyo's TV broadcasting tower as a symbol of Japan's escalating post-war economic recovery, rural schoolgirl Mutsuko arrives from the provinces to begin her first job with Suzuki Auto. Initially impressed by meeting company "president" Norifumi Suzuki, Mutsuko is shocked to discover her workplace is actually a shabby auto repair shop in Tokyo's down-at-heel Yuhi district.
Suzuki is a bad-tempered employer but Mutsuko is welcomed by his wife, Tomoe, and their impish 5-year-old son, Ippei. One of Ippei's favorite haunts is a five-and-dime store managed by struggling serial writer Ryunosuke Chagawa. Regarding now-successful writers like Nobel-prize winner Kenzaburo Oe, as overrated, Chagawa wants to be more than a hack churning out sci-fi yarns and selling cheap toys on the side.
When alluring newcomer Hiromi opens a sake bar in the area, she gathers clientele quickly—in dramatically compressed manga style—but also finds herself lumbered with Junnosuke the orphaned offspring of the bar's previous tenant. Drunk, and smitten by Hiromi, Chagawa accepts custodianship of the boy.
#3 The Eternal Zero(永遠の0) 535 votes
A young man Kentaro Saeki keeps failing his bar test and does not know what to do any more. His older sister Keiko is a freelance writer. Kentaro and Keiko begin to search for information on their grandfather Kyuzo Miyabe who died in the special forces during World War II.
Their grandfather Kyuzo Miyabe was terrified of death and obsessed with life. Why did he join the special forces? According to his fellow navy soldiers, Kyuzo Miyabe was a genius and also a coward. Kentaro and Keiko then discovers the shocking truth which has been sealed for 60 years.
#2 April Bride(余命1ヶ月の花嫁) 562 votes
On April 5, 2007, a couple married in a church. At first glance, it was a typical wedding. The bride, however, was suffering from late-stage breast cancer and had been given only a month to live.
#1 Crying Out Love, in the Center of the World(世界の中心で、愛をさけぶ) 693 votes
n a small town of southern Japan, Sakutaro "Saku" Matsumoto and Aki Hirose, classmates since junior high, become high school students. During this time they begin to date and their conversations circle around the idea of what love really is, beginning after Saku's grandfather shares his own past love story with Saku.
After a trip the two take to an abandoned island, Aki discovers she has leukemia, which limits her chances to go outside or see Saku. Once Saku learns the truth, he buys flight tickets to take Aki to Australia's Uluru (Ayers Rock); a place she had always wanted to visit after missing the school trip there, but she dies before she could board the plane.
◆Related Article
Get the tissues ready! 10 Japanese touching movies!(TOP6~TOP10)

Check "RANKINGOO" for more voting results.