Japanese drama"Love Lasts Forever(恋はつづくよどこまでも)"recently released in Japan, the sweet love between a handsome doctor and a clumsy and brave little nurse is a big hit both in Japan and abroad. Many fans of Takeru Satoh even bluntly called out the loss of Dr. Tendo after the drama aired.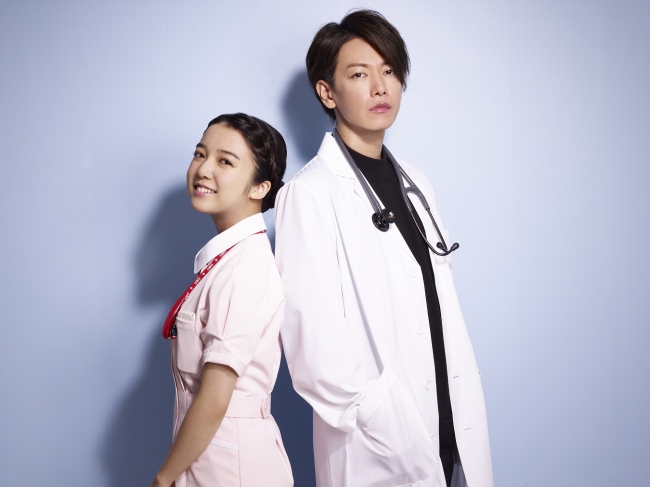 Ⓒ円城寺マキ・小学館/TBSスパークル・TBS

However, Takeru Satoh is actually an actor who values interaction with his fans. He created an official LINE personal account that not only publishes official messages, but also often sends messages such as, "なにしてるの?" (What are you doing now?) , "明日夜電話する"(Call you tomorrow night) and other daily greeting messages with cute stickers. In addition, he also uses the free SUGAR video phone app to chat and interact with his fans. During the live broadcast, his phone will display a screen of "Takeru Satoh calling", as if Takeru Satoh had actually called, so many fans said they accidentally bumped into a deer when they saw the screen.If you don't have SUGAR installed yet, don't forget to download it!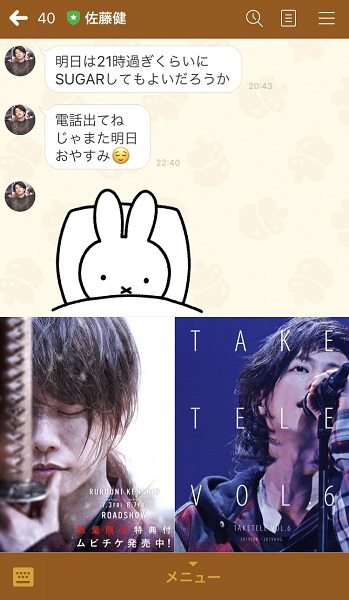 (Takeru Sato official LINE personal account :
How about a live SUGAR broadcast tomorrow night after 9pm?
Remember to answer the phone.
See you tomorrow.
Good night.)
■ SUGAR iOS App Store
■ SUGAR Android Google Play
In addition, Satoh Takeru also recently launched the official YOUTUBE channel "佐藤 健 / Satoh Takeru", which was broadcast live on the day of the channel's launch, and invited "Love Lasts Forever" actress Mone Kamishiraishi as a guest.And then there's the video of the car trip with his friend Ryūnosuke Kamiki.You can see Satoh Takeru 's self-service model of driving out, and the cute interaction between him and Ryūnosuke Kamiki.Remember to subscribe to the channel!

In addition to following Satoh Takeru on his official LINE and YOUTUBE, we're also going to introduce three more of Satoh Takeru's best Japanese dramas today, so that you can continue to immerse yourself in Satoh Takeru's charm!
1.The Emperor's Cook(天皇の料理番)

佐藤健さん演じる篤蔵は料理人を目指しています…ということで、コックさん姿の健さんが年末に年越しそばをなんと手作りで!キャストスタッフ全員に振る舞ってくれました~∧∧ #天皇の料理番 pic.twitter.com/h4gaHEUelZ

— 『日曜劇場 天皇の料理番』 (@ryoriban_tbs) January 5, 2015
Tokuzō Akiyama is a good-for-nothing young man living in the countryside, who gets easily absorbed in activities he finds interesting, but quickly loses interest and moves on, creating trouble for his family. He is married off to a merchant household to teach him discipline, and his wife gradually grows to love his personality. Tokuzō, however, falls in love again: this time with cooking. As he delivers goods to the army kitchen, the army chef introduces him to cutlet, which prompts Tokuzō to learn the craft. On a whim, he decides to leave his wife to study cooking in Tokyo. Amid hardship and humiliation, the young man who never felt compelled to stick to a job, keeps his dream to become the emperor's cook at only 26 years of age.
"The Emperor's Cook" premiered in Japan in 2015, and it's not only a touching and inspirational film, but also a great performance by Satoh Takeru, whether it's his awkward and silly look as a young man, his courage as a emperor's cook, or his affection as a husband, you can't go wrong with a different kind of Satoh Takeru! In addition, it is said that Satoh Takeru was not very good at cooking before the performance of this work, but in order to fully demonstrate the confidence and craftsmanship of the emperor's cook, Akiyama, Satoh Takeru also put a lot of effort into his knife work, and it is very admirable to see Satoh Takeru's dedication and hard work as an actor in this Japanese drama.
2.Hanbun, Aoi/Half Blue Sky(半分、青い。)
Suzume Nireno and Ritsu Hagio were born on the same day in 1971 in a small town in Gifu Prefecture. They grow up as close friends, with Suzume encouraging the smart but shy Ritsu, and Ritsu protecting Suzume, who lost hearing in one ear due to an illness.Although she has lost her hearing in her left ear, she thinks she can only hear the rain on one side and the blue sky on the other, demonstrating her distinctive optimism. After graduating from high school, she decides to go to Tokyo.Put through training by her teacher, she tries hard to improve herself by learning from fellow assistants and devoting herself to studying.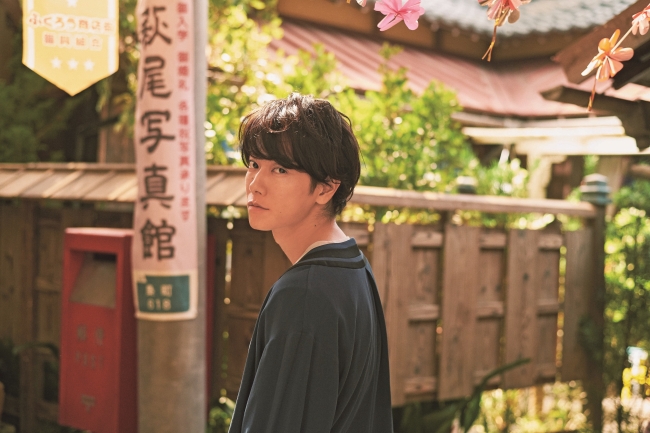 I actually prefer Takeru Sato's portrayal of the neighbor boy "Ritsu " in Hanbun, Aoi to the more majestic Dr. Tendo. The bond between Suzume and Ritsu is quite touching. Watching the drama at the moment, you will be completely impressed by Ritsu's melancholy neighbor boyishness. If you are still trapped in the handsome charm of Dr. Tendo, why not come and see how handsome Ritsu is too?
3.Stepmom and Daughter Blues(義母と娘のブルース)


©TBS
Akiko Iwaki (Haruka Ayase) is a career woman who works very hard at her job. She gets married to Ryoichi Miyamoto (Yutaka Takenouchi) who has a daughter. Akiko Iwaki must now deal with housework and raising her stepdaughter.
Premiering in Japan in 2018, the warm and heartwarming yet funny drama received high ratings and even launched a special New Year episode in early 2020. Although Takeru Satoh does not play the main character in this drama, he is a very important character in the drama, and he is also heavily involved in the second half of this and the New Year's Special. Unlike the usual handsome and calm characters,Takeru Satoh plays Akira Mugita in "Stepmom and Daughter Blues", who seems a bit frivolous, cheerful and unconventional.
In addition to the above Japanese dramas, Takeru Satoh's earlier performances in "Kamen Rider Den-O", "ROOKIES","Q10"."Tonbi"are also worth watching. The Japanese films "The Liar and His Lover", "If Cats Disappeared from the World " and "Somebody" are also representative works of Ken Sato, and of course, it is impossible not to recommend the movie "Rurouni Kenshin" series. In April 2019, Warner Bros. Japan announced a fourth and fifth film was in production. Takeru Satoh will reprise his role as Kenshin, and scheduled to be released in Japan on July 3rd (Fri.) and August 7th (Fri.) this year.